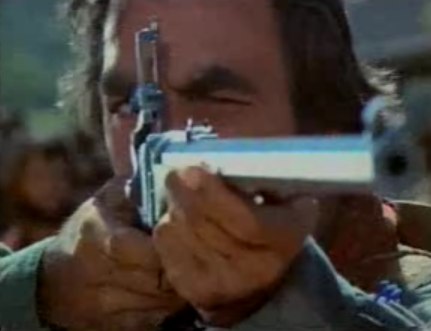 A couple of weekends ago, I was fortunate enough to squeeze off a few rounds from a
Sharps
1874 - you may remember the 1990 movie, "Quigley Down Under" with Tom Selleck.
The weapon had a prominent role.
At its peak, the Sharps was considered one of the best, long range firearms in the world.
From the
Uberti
site, makers of Sharps replicas:
"...In 1874, after 700 Comanche warriors attacked 30 buffalo hunters in the Texas panhandle, the hunters used their Sharps rifles to exact a punishing toll. By the early 1880s, the long-range models had become the favorites of professional buffalo hunters because of their long-range capability..."
Indeed, even today, the long-gun is a fully functional, work of art: double triggers, lever action, 34" barrel, 15 pounds she delivers a good kick, our black powder loads were clustering in 8 inches, 300 yards - we aren't that good.
The Sharps is cool - but the movie/sales metaphor?
Rugged individualism in the face of despotic ownership and management;
Analog Guy
, in a digital world full of other analog guys who think they're digital.
Huh?
Here is the breakdown:
Tom Selleck, plays a hired gun, "Quigley" (sales guy).
He has a really big, long...rifle. It is standard, a few modifications, single shot, weapon. He knows how to use it. (Tools of the Selling Trade)
He is comfortable as an outsider. He knows right from wrong. He knows who he is. (Self Perception)
So off he goes, out to hunt down and close a few deals. (Prospecting and Closing)
There are, of course, complications.
And betrayals.
Quigley accepted this position under the belief that he would be eradicating Dingo's ("...maybe the
dingo
ate your baby..."). Regrettably, he is hired to hunt down and kill Aborigines. (undetermined or vague commission structure)
When Quigley expresses his displeasure over his current employment arrangements, this new employer turns him out, leaving him in the desert with no food or water.
Well, you can guess the rest..."Quigs" takes them all down.
The lessons:
Know Thyself...
- Quigley had confidence in him because he has a real vision of himself.
Know your Tools...
- From the Sharps to the Colt; from the cold call to the SOW, modify and own.
Know your Place...
- How do you affect your dealer's bottom line? How does your employer affect your bottom line?
Go to Work...
- Plan at 100% or not - just do something.
If things are not what they were represented to you, voice displeasure and be ready to get out of Dodge...
- Your current 'job' is a stepping stone. Every experience brings incredible, personal value which you carry to the next cold-call, presentation, client meeting, and job interview
This is the type of content, the ideas behind the words, that you
will find here
.
And it's not all that bad being underestimated...
This isn't me, I am working the Droid Xxx video cam. It's a buddy who traded a .357 for the Sharps. And then there is the TAC50:
Click to email me.